▲Weight Loss System/Vela/Cryolipolysis/RF Cavitation/Lipolaser/Shockwave RF
SW-CRYO05 Portable coolsculpting double chin removal fat reduction body contouring fat freezing cryolipolysis machine
cryolipolysis
weight loss
body slimming
non surgical
SW-CRYO05 Portable coolsculpting double chin removal fat reduction body contouring fat freezing cryolipolysis machine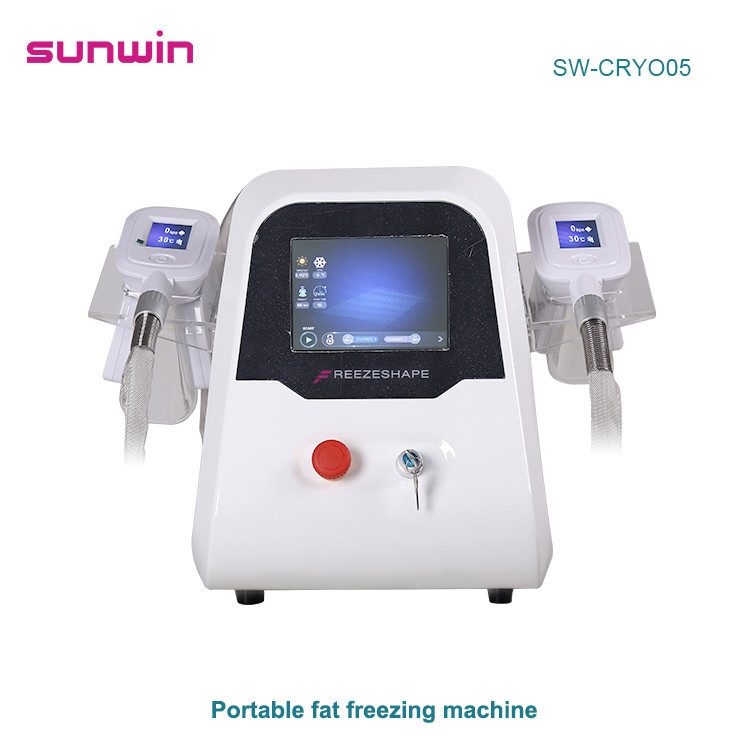 Working Theory:
Cryo is a new non-invasive way to gently and effectively reduce fat in targeted areas of the body.
As triglyceride in fats will be converted into solid in particular low temperatures, it uses advanced cooling technology to selectively target fat bulges and eliminate fat cells through a gradual process that does not harm the surrounding tissues, reduce unwanted fat.
A number of methods have been attempted for lipolysis including the use of laser, ultrasound, and radiofrequency electric current, since cryo was developed appling cooling to tissue, was approved as the most effective way to fat reduction.
This revolutionary new idea of dissolving fat, which is approved as an important technology progress in fat reduction since it is put into use.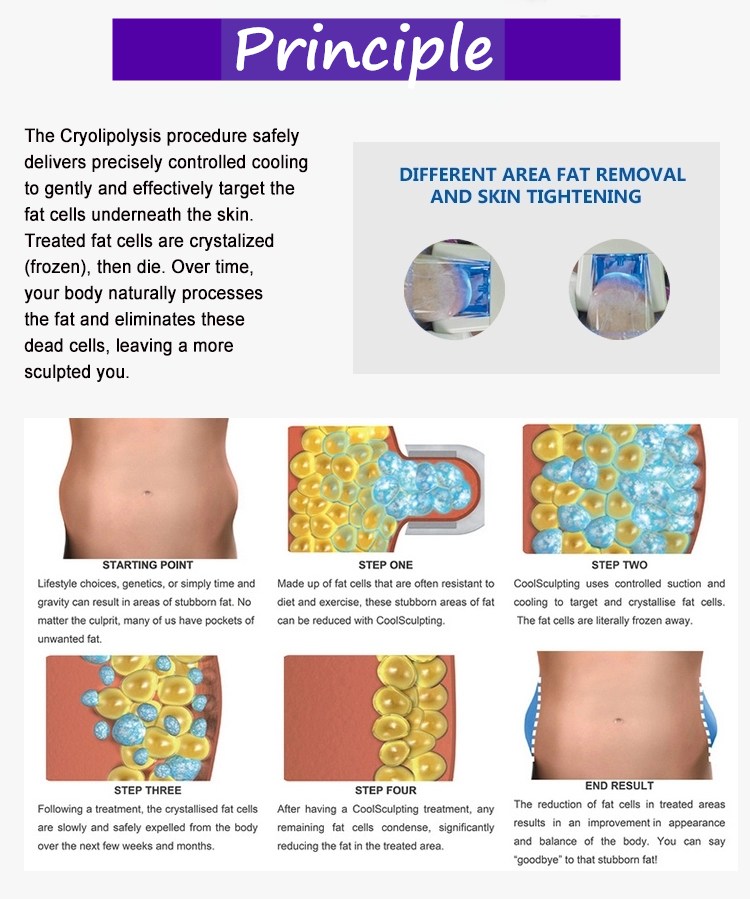 Cryolipolyse head (Temperature: -12 °C~ 5°C):
The use of non-invasive method of operation, accurate transmission of "frozen" to the body
fat accumulation position, targeted to eliminate stubborn fat cells. It is moted that adipocytes are more
susceptible to freezing than other surrounding
tissues, adipocytes are solidified and decomposed
, and other cells near the fat cells die at zero and can safely eliminate fat cells that do not damage
the skin and adipocytes around the tissue.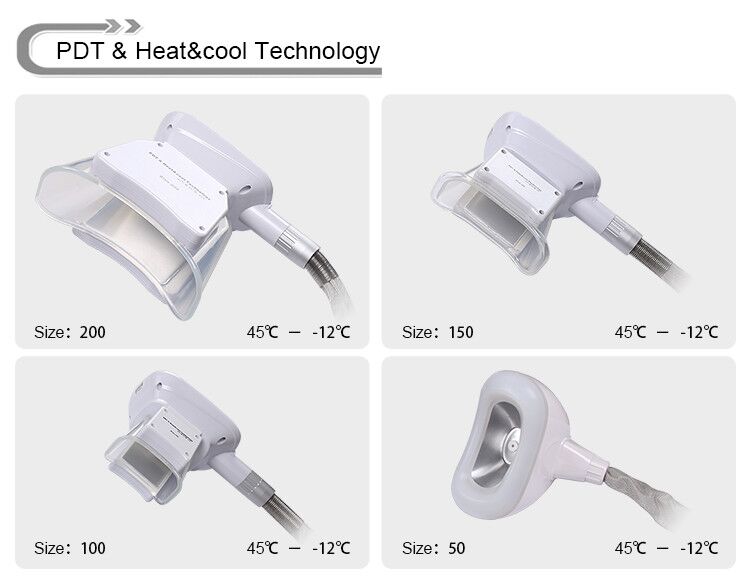 Treatment ranges:
1. Body shaping, fat dissolving, repel the cellulite.
2. Lymphatic drainage, promoting metabolism & blood circulation.
3. Decrease the excessive water and prevent the fat from accumulation.
4. Tightening skin, strengthen skin elasticity, skin lift.
5. Clear belly wrinkles, especially the stretch marks.
6. Complementing the collagen, skin rejuvenation.
Machine Advantages:
(1) 8 inch colorized touch screen control, simulation modeling of dynamic 3D interface, human-computer interaction design unique, simple, and convenient operation;
(2) The utility model has the advantages of comfort and labor-saving, convenient operation, and exquisite appearance, according to the design of human engineering;
(3) Patent design of separation technology, through the warm-up of the skin before the refrigeration, fat-soluble design, can effectively prevent the skin in a long time below 5 degrees Celsius;
(4) Exclusive development of freezing point reduction and surface-active dosage form antifreeze film, can effectively prevent frostbite;
(5) Automatic water adding and monitoring function, the air pressure in the comb passage can be filled with a water tank and hand channel at one time;
(6) Automatic cleaning and monitoring function to effectively clean the sediment of the hand pipe and protect the core components of the gas path to avoid damage;
(7) The Omnibearing stereoscopic intelligent monitoring system can monitor the water level, the coolant flow rate, the liquid level of the cooling system, the filter level, and the air pressure of the two-channel hand system in real-time;
(8) Intelligent alarm system, through monitoring the system feedback data processing, analysis, and processing, quickly and effectively respond to the abnormal.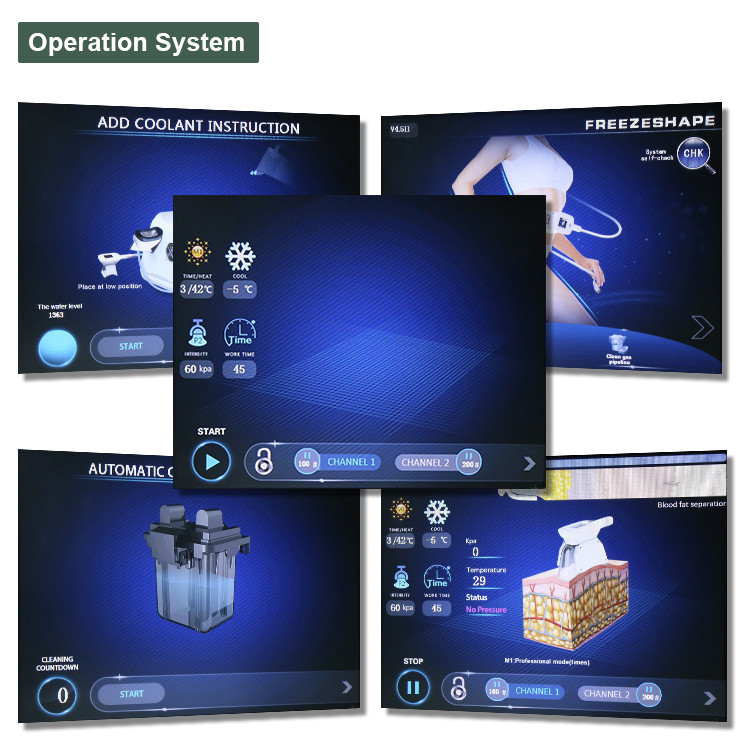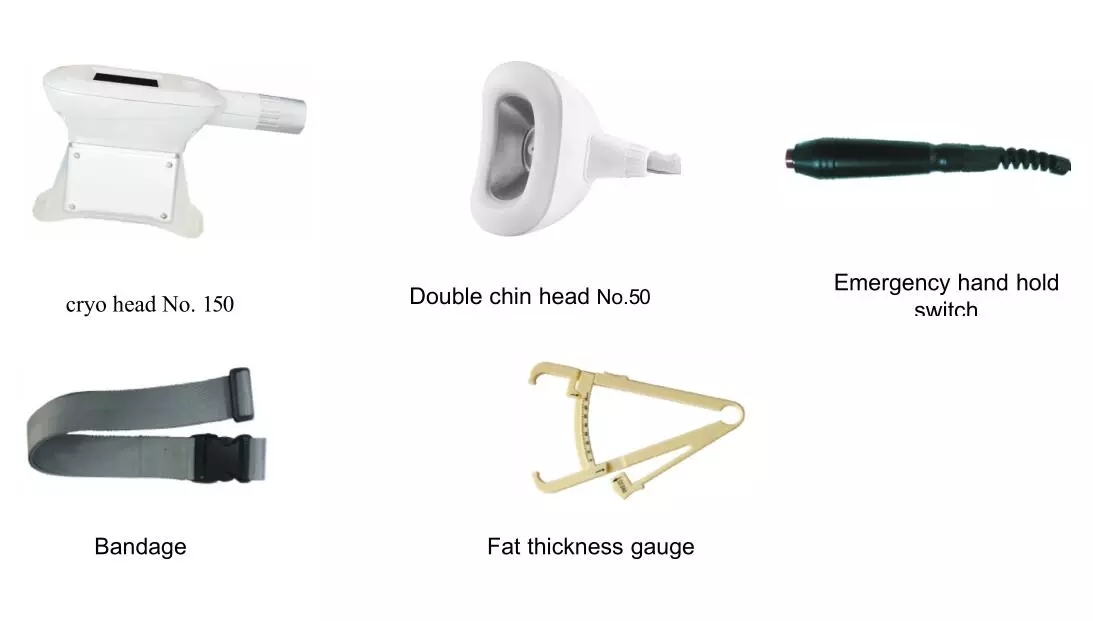 Technical Parameters
| | |
| --- | --- |
| Product Name | Cryo fat freezing machine |
| Insurance specifications | Max10A |
| Rated power | 600W |
| Negative pressure | 10-80Kpa |
| Heating | 35 ° C to 45 ° C |
| Photon | red light (630nm) blue light (470nm) 50mW*4 |
| Coolant | pure water or special coolant |
| Refrigeration | 5 ° C to -12 ° C |
| Input Power | AC110V/220V 50-60Hz |
| Specifications | 64cm * 44cm * 64.5cm |
Contact Us
Contact: Annie
Phone: 0086-15902095923
Tel: 0086-15902095923
Add: Guangzhou City,China.