▲Weight Loss System BTL exilis/Velashape/Cryolipolysis/RF Cavitation/Lipolaser/Shockwave RF
SW-86F Pressotherapy Massage Lymphatic Drainage Far Infrared Slimming Machine With EMS
Pressotherapy
Lymphatic Drainage
body slimming
Far Infrared
SW-86F Pressotherapy Massage Lymphatic Drainage Far Infrared Slimming Machine With EMS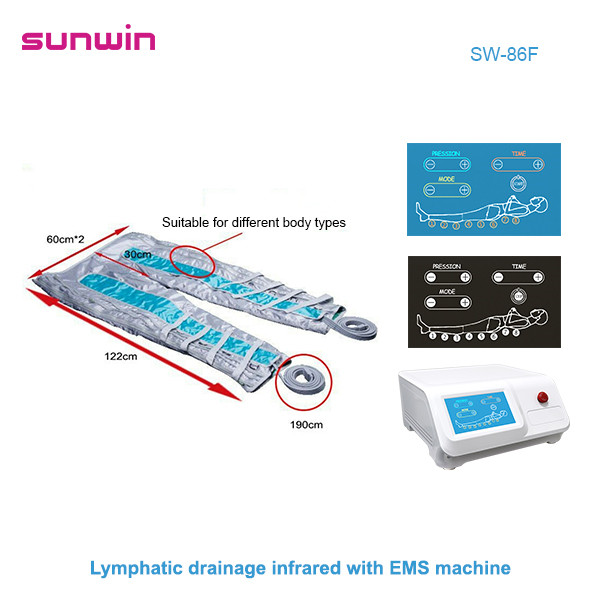 Spa/home use - cellulite treatments, massage and relaxation.
Ø stimulates collagen strings in deeper levels of skin
Ø increases the lymphatic flow
Ø supports the metabolism of skin cells
Ø lowers the effects of cellulite
Ø reduces the volume of massaged parts
Ø increases the skin elasticity
Ø helps to increase the effects of cavitation and RF treatments
Ø helps to reduce weight if used periodically
Principle
This aircraft is a most popular multi-function weight-loss device, combined with functions of far-infrared fat dissolving, air-pressure lymphatic drainage, as well as low-frequency stimulation. Operate far-infrared heating after massage (by beautician), then start the lymphatic drainage operations, and at last use low-frequency to tighten skin, to achieve systematic and comprehensive effects of fat losing and size reducing.
1. Far Infrared
The far-infrared slimming treatment can help increase basic metabolic rate (BMR), which is the fastest and natural way to lose weight.
As the body warms, in addition to sweating, the blood thins and the speed at which it circulates around the body increases, while the body tries to cool itself down. The effect is to raise the temperature at the extremities of the body to the same temperature at the core of the body – a temperature at which body fat can be broken down.
2. Pressotherapy
The pressotherapy, with a set of cloth-like accessory and 20 pieces of air bags (10 pairs, or 10 pieces on each side of body)
It can help promote the body's natural toxin clearing functions. The revitalization and oxygenation of the tissue helps to slim and redefine the legs, stomach and arms while enhancing skin tone.
3. EMS (Electro Muscle Stimulation)
By creating electronic pulse to stimulate special points on the body, EMS can effectively regulate bio-electric and endocrine system and accelerate metabolism, reaching remarkable effect of weight losing and skin tightening.
Function of far infrared and air pressure
1. Fat dissolution
2. Elimination of fat
♦ Far infrared works on fat tissue and dissolve the fat cell with heat radiation. The quantity of fat cell decrease largely.
♦ Regular Inflation and deflation and variational air pressure lead to fat cell rubbing and fragmentation.
.Far infrared release a great deal of heat energy, speed up blood circulation and biochemical reaction, promote metabolism, consume a great deal of AIP, lead to catabolism of fat C.
3. Shrink of fat
Heat radiation rise up the temperature of local tissue, the pore of skin expand, perspiration largely, the water outside of the cell (water inside of fat cell) enter into blood, lead to decrease the volume of fat cell in great deal.
4. Lymph toxin excretion
5. Remission of muscle spasm
a. Capillary expanding, speeding up the blood circulation, waste of metabolism anddissolved fat entering into the blood and lymph.
b. Air chamber works more regularly and directively through air pressure, promote lymphatic system reflux, drain the toxin out of body.
Far infrared irradiation decrease tension of skeletal smooth muscle and relief tension and spasm of muscle.
6. Others:
Inflammation diminishing, analgesia, promote regeneration of tissue, soften scar.
FiChoose infrared presso function or ems function.
Contact Us
Contact: Annie
Phone: 0086-15902095923
Tel: 0086-15902095923
Add: Guangzhou City,China.